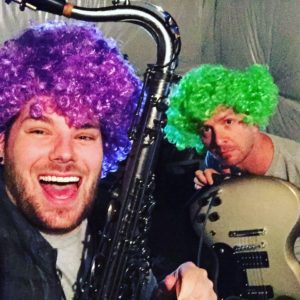 The second coming of funk may well be upon us, and rest assured there is nothing premature about it. In defiance of our era's glorified button pushers, a bottle-popping, booty-clapping funkstrosity known as BooBoo TiTi has arrived to indoctrinate the musically deprived masses.
BooBoo TiTi's members have considered coining terms like "soul booty," "sleaze funk" and the inconveniently verbose "party dancetronica" to describe the band's borderline pornographic brand of electro funk. They soon realized that was something that an anonymous DJ who dresses up like cotton candy would probably do, so they opted to let their grooves do the talking instead.
After all, a BooBoo TiTi show speaks for itself. Tyler Layers' keen ear for sound design is evident in each of the mixes at the foundation of each sexually-charged single. While Seth Abrumz alternates between mixing on CDJs and layering on guitar licks from his Gibson SG, Zach Simms fires back with provocative melodies from his big, black freight train of a saxophone, until they effectively transform any venue into a #TiTiClub party – and raucous, raunchy hijynx of the raciest variety ensue.
By 2015, Abrumz was already a fixture of the electronic music community for his founding role in Colorado collectives Got Bass Music and House of Dub, after years of DJing throughout the Mile High area. He joined forces with Layers (who earned an A.S. in recording arts from Full Sail University all the way back in 2002) to co-produce the initial concepts for BooBoo TiTi, and the outfit first performed at The Tap House in Steamboat Springs in support of experimental electronic music DJ/producer Ana Sia.
However, it wasn't until Simms descended upon the group like funktastic Messiah (with flowing locks to boot) that BooBoo TiTi was complete. A seasoned saxophonist known for touring with a pool of artists diverse enough to include progressive rock bands like Zobomaze as well as funk groups like Mlima, his perverse and vaguely hip-hop-reminiscent lyrics coupled with his keen instrumental prowess made for the final piece of the puzzle.
After linking up, the trio set aside some time to work together at Denver's Side 3 Studios – whose clientele includes such artists as Flo Rida, Justin Bieber and Lil Wayne. In the span of three days, Abrumz and Simms recorded all eight tracks of BooBoo TiTi's debut album, #TiTiClub. Shortly thereafter, they filmed the music video for the effort's lead single, "Champagne Campaign," at Denver strip club Platinum 84.
By the time BooBoo TiTi returned to The Tap House (this time sharing the stage with Skydyed), they had a much bigger catalogue of original music at their disposal. With each performance #TiTiClub grew in numbers until their name accompanied the likes of Champagne Drip, Joker, Mickey Avalon, Goldfish and JackLNDN on event lineups, and they had performed at such venues as Cervantes' Other Side in Denver, The Aggie in Fort Collins, and Rawkus in Colorado Springs.
Now with well over a year in the books, BooBoo TiTi's members have refined their craft and are poised to deliver a barrage of highly anticipated singles. "Over The Top," for instance, was accompanied by the group's second official music video and became an anthem for partygoers the world over.
Needless to say, you can go to a BooBoo TiTi show expecting a lurid, scandalous affair that incorporates an array of stimulus into an enticing and interactive audiovisual spectacle. Simms is known to wear a T-rex onesie onstage and refer to himself as the "Saxysaurus Rex," and from time to time he even pours champagne for audience members while the band performs "Champagne Campaign." Abrumz juggles mixing and shredding duties effortlessly, rendering each performance a one-of-a-kind experience for anyone in attendance.
Make way for the juicy, rambunctious electro funk juggernaut known as BooBoo TiTi, music world. Even if the band's larger-than-life presence doesn't suit your fancy, their seductive sounds and are about to find their way into your ear holes whether you asked for it or not.
Seth Abrumz spinning and guitar
Zach Simms, P84 savior
Tyler Layers Production